Bill Clinton & JFK, the original Democratic pimps, approve of this post.
Unless you're living under a rock, you have heard about the Rep. Weiner debacle. Weinergate, as it's happily being called, started by the politician meeting some girls online, and sending them some slightly NSFW pictures.
I'm not going to post or link the bulge here, but if you're really that interested, a quick google search will get you what you want.
The biggest issue in all of this? He's married, and it wasn't his wife we was sending lewd pictures to. Other than that, no harm no foul, right?
Wrong. Kind of.
Politics is politics. Republican or Democrat, it really didn't matter who did it. The other side will see this scandal, and flock to it like sharks smelling blood in the water. Did he break the law? No. Do his constituents care? Not really.
Who does care? Tabloids, spin artists, and anyone looking to profit from another person's embarrassment.
#3 is where this gets interesting. This all happened on twitter, so the 160-character-or-less giant is getting amazing publicity from the event. Weiner-related jokes are through the roof. As shown on
another blog
, businesses are trying to capitalize on the play on words.
And, of course, there are he late night talk show hosts:
Being a red-blooded male, I have sent racy pictures of myself to a female or two in my time. Sexting is becoming more and more popular, and "friends with textual benefits" can be fun. So, in my own twisted way, I applaud Rep Weiner for being a man.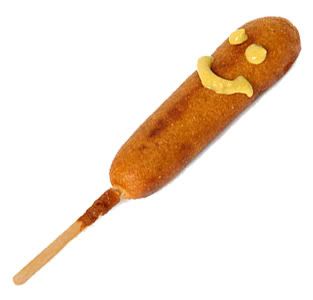 *click* the corndog for my #teamweiner tribute...
So, Rep Weiner, I say this to you. Apologize to your wife for e-cheating. Apologize to the internet for plastering your package on a worldwide forum. But don't ever apologize for being a man.