So I have dabbled at gyms before, but always took somewhat of a half-assed approach to it.
30 minutes of cardio (on the easy-peasy bikes) followed by ok-but-not-great time playing with weights on machines.
I have lost a little weight this way, but nothing I could call ideal.
I still had a poochy belly, and more of a 2
nd
chin than a neck.
Not me. But close enough.
So when I moved up to Idaho, I decided to join a good gym, and fix this.
New state, new outlook on life, new health and fitness goals.
I finally picked a local gym I liked, and signed up.
When you sign up, you get two free sessions with a trainer.
WOO!
I can finally learn a good regimen, dieting tips, and maybe make some REAL progress!
Session 1 was a meet & greet.
He felt out what I was looking to accomplish, and saw that I had a pretty good attitude.
We were talking while on the bikes, so I'm holding a conversation while pedaling at 100rpm…
Hard to do.
We decided the best workout for me is light on weights, heavy on reps.
Keep the heart pumping at 143 beats per minute or higher, so I'm working muscles while burning fat.
I want to focus on muscles I've been neglecting (core, chest, back, etc) so we get started.
And that's about all I remember…
We did 6 different types of crunches, in succession, so my abs and back could get a firm workout.
We switched from routine to routine, to keep the heart pumping.
Dude beat me up.
Next, off to the biceps.
Do 7 of this, 7 of that, and then 7 of these.
"Good job!
Now let's work on --
dude, you ok?
You look pale…"
"Fmeh?"
"Maybe you should sit down…"
"…fmeh."
I've done workouts in short spurts before, but always alone.
If I felt like I needed to take 5, I would.
In fact, I probably took more 5's than I spent working out.
Not with this guy.
I wanted to keep up.
I pushed myself to the point of almost blacking out, and paid the price.
This was me (pretty much):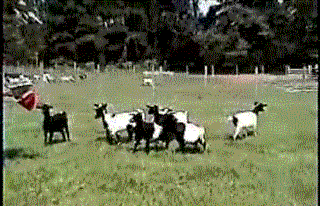 But you know what?
I learned a lot before I slipped into my mini-coma.
And I came back the next day, to work on the lower body…
Hoping for session #2 soon.
Trying to keep my cardio up in the meantime, so I'm a little less out of shape when the beat-down commences.
When that's done, I'll most-likely sign up for a plan where I can meet with a trainer twice a month.
Currently at 236.
Goal by July 4: 200 even.
That's 3lb a week.
I can do this. It's more to get into shape and be healthier, but weight loss is always a good thing.
Are there any fitness freaks out there?
If so, shoot me a few links in the form of a comment.
Tips & tricks are always appreciated.