**DISCLAIMER**
This story is in no way meant to offend or ridicule people with disabilities. I help the aging and disabled community every day at my dayjob. This is merely a story of frustration, and meant for (somewhat) entertaining purposes only.
As always, read the comments as well as the post. Sometimes the discussion afterwards is funnier than the initial post.
****************
Sonic!
Yes, Sonic, the wonderful drive-in.
Now, you may be saying... "Dude! But Sonic isn't just an Idaho thing! They're practically everywhere!"
Yes, but this one is special. And when I say special, I mean it more than one way.
Short-bus special, for instance...
So last night my girlfriend said "Let's pick up some Sonic for dinner." Now, as a man, my goal is to get there, get grub, and get back as quickly as I can.
I get over there, and there is a huge line at the drive-thru. This happens sometimes, so I didn't worry too much about it.
But as I placed my order, I started to wonder about the drive-thru dude taking my order. He sounded like he was mockingly doing an impression of Ed Sullivan or a cheezy radio DJ.
"mmmmmmmmmWelcome to Sonic... My name... is Brad. mmmmmmmmmWhat can I get you today?"
mmmm...yeah. Really?
I placed my order, then creeped ahead in line. Slowly. Very slowly.
I finally get to the window, and am greeted by mister announcer dude. Turns out he, in fact, is not Ed Sullivan. He's disabled, and speaking isn't one of his strengths.
I try to be friendly, but it's now making sense why it took me about 15 minutes to get to this point in the drive-thru process, where it normally only takes 3-5...
"mmmmmmmmmYour total today.... is...$12.03."
I try to hand him a twenty.
"....for two Chicken Nugget Meals..... one with fries.... one with tots..."
He's not taking the twenty.
"...a coke with no ice... and an unsweet tea...."
I'm waving the twenty. Strippers 200 miles away can sense a waving $20 bill... It's like dog-whistles to a German Shepherd... but he doesn't seem to notice.
"mmmmIs that correct, sir?"
I say yes, and ALL OF A SUDDEN he sees the money!
"Out of twenty? mmmmmmmmmOk"
Now, I'm not trying to make fun of the kid. I know he has a condition, and I applaud him for trying to overcome it. I'm trying to be tolerant and mindful of the situation. My lil bro has aspergers and some other developmental disabilities, so I can empathize a little... but seriously?
Yes, I know you have a script to follow. Yes, I know you have to repeat the order back to me. Yes, I know you have to count the change back to ensure it's correct.
But when the whole damn process takes longer than me humming Bohemian Rhapsody in my head, IN ITS ENTIRETY, there's a problem.
Side note, when I got to the 'Wayne's World' section (after the operetta, before the guitar riffs...) I almost started headbanging. THAT is how disjointed I am at this point.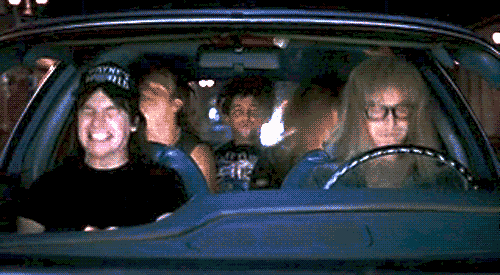 Beelzebub... has a devil put aside for me.... for meeee... for MEEEEEEEEEEEEEE!!!!!!!!
When I worked at Macy's, I knew my weaknesses. I probably wasn't going to do well as a salesman for ladies underwear. Macy's recognized that too, and utilized my strengths.
Sonic, please do the same. Help him build his character, help him achieve his goal of becoming a productive worker and becoming more independent, but please remember that customers like me just want to get In and Out as quickly as possible.
Speaking of, I wish there was an In and Out nearby.... Sonic is good, but a Double Double is better.
Fucking Idaho....