As a teenager in the 90's, I had a fun array of celebrities and models to, um, "inspire" me.
One of my favorite models, BY FAR, was Tyra Banks.
The eyes, the hair, the skin, the CURVES... Tyra was a goddess to me. I bought her Sports Illustrated Swimsuit issue in 1997, and wore that magazine OUT.
When they started showing Victoria's Secret shows on TV, I'd lock myself in my bedroom and practically go blind...
So naturally, when I heard she was getting her own show in 2003, I watched. America's Next Top Model was my guilty pleasure.
Season 1 aired, and it made me fall for Tyra even more. Not only is she GORGEOUS, but she's down-to-Earth too. She has a sense of humor, and is more 'real' than I thought.
But as the show continued from season to season....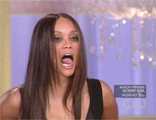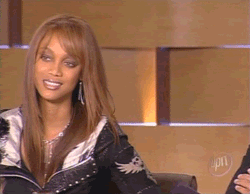 Tyra started to lose her appeal to me...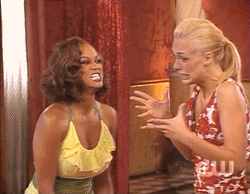 This bitch is just plain crazy...
When she spawned 'The Tyra Show,' I was no longer attracted to her.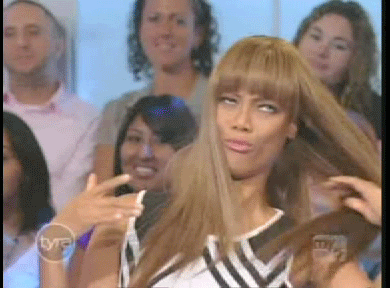 I'm sorry, I don't care how good you look, or if your boobs are God's gift to men everywhere. The second you go psycho, my peepee shrivels.
Sorry Tyra. 10 years ago, I would have done EVERYTHING to you. Now, I'm just worried for you... Maybe it has to do with her hair color? Too much bleach is rotting her brain? Or is she turning into the stereotypical blonde? Either way, run and hide...